Pharm-A-Clear® | Platinum-Cured Silicone Tubing
In Stock | USP Class VI | Medical Grade | Clean-Room Manufactured | ADIF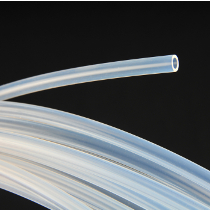 Pharm-A-Clear® C – Medical-Grade Platinum-Cured Silicone
Pharm-A-Clear® C Platinum-Cured Silicone Tubing was developed to meet the most stringent requirements in the bio-pharmaceutical and medical device industries. Our medical-grade Pharm-A-Clear® C is manufactured in a state of the art clean room. Continuous laser measurement is employed to ensure the most exacting tolerances for peristaltic-pump applications.
Pharm-A-Clear® C is widely used for liquid media transfer, is exceptionally clear and is designed for us in peristaltic pumps. It is a preferred component of many single-use tubing assemblies. Pharm-A-Clear® C is our highest temperature rated silicone tubing and is ideal for depyrogenation processes.
Pharm-A-Clear® LH | High Accuracy, Long Life Peristaltic-Pump Tubing
For the most critical high accuracy and final fill peristaltic-pump applications, we developed Pharm-A-Clear® LH (low hysteresis) platinum-cured Silicone Tubing. The "LH" series tubing is manufactured from a platinum-cured silicone compound that exhibits many unique characteristics which are not typical of other platinum-cured silicones. Our Low-Hysteresis Silicone exhibits the life span of peroxide-cured silicones with purity levels that only a platinum compound can assure. As Pharm-A-Clear® LH is typically used in final filling, TBL has conducted extensive extractable/ leachable studies to ensure the product meets the highest standards for bio-pharm applications.
Always in Stock
TBL stocks an extensive range of sizes specific to most major major peristaltic-pump brands.
Temperature Rating
Pharm-A-Clear® C – 491°F  (255°C)
Pharm-A-Clear® LH – 430°F  (220°C)
Benefits
Medical Grade
Platinum Cured
Superior Bio Compatibility
High Temperature Rating
Extremely Flexible
No Taste or Odor Imparted
Clear
In Stock
Regulatory
USP Class VI
ISO 10993
Animal Derived Ingredient Free (ADIF)
FDA CFR Title 21 Section 177.2600