PFA Tubing – Fluor-A-Pure™
High Purity Flexible PFA Tubing | Fluor-A-Pure™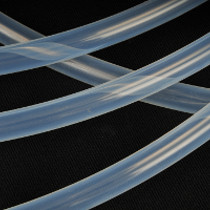 Fluor-A-Pure™ has been specifically developed for the most extreme chemical and ultra-high purity service conditions. Unlike typical high purity grades of PFA (perfluoroalkoxy), Fluor-A-Pure™ is manufactured from 100% virgin PFA. The result is superior micro porosity characteristics and externally smooth surface finishes.
Fluor-A-Pure™ has excellent flexibility compared to other grades of PFA tube and is ideal for use with flaring tools and compression fittings.
Contact us with any questions, quote requests, and sample requests regarding our Flexible PFA Tubing, PFA Hose, and PFA Tube. For applications where the highest purity is less of a concern, try our Fluor-A-Pure™ FEP Tubing.
Applications
UHP Chemical Process
Laboratory Applications
Pharmaceuticals
Semiconductor
Flow Monitoring
Emissions Monitoring
Food Processing
Electrical Insulation
Heat Exchangers
Automotive
Benefits
100% virgin-grade high-performace resins
Chemically inert to most industrial chemicals and solvents
Excellent UV transmission (Optically Clear)
Low permeability
Higher thermal stability than FEP
Non flammable
Superior electrical insulation
Suitable for use with flare or conventional compression fittings
Available in coiled hose and convoluted constructions
Non-stick
Packaging
Per Customer's Specifications
Clean Room Packed
Available Pre-Flared and Pre-Cut
Sterilization
Available DI Washed and Nitrogen Packed
Suited for ethylene oxide and autoclave
Specifications
Meets or Exceeds ASTM D 6867-03
Temperature: -300°F to 500°F
Flammability: UL 94 VO Rated (Resists combustion and spread of flames)
U.S. Pharmacopoeia Class VI Certification
Cytotoxicity Criteria
In compliance with CFR Title 21 Section 177.1550
Full Lot Traceability
Material Properties
Property
Test

[email protected]

°F(22.8°C)
Unit
Value
Upper Service Temperature
°F(°C)
500(260)
Specific Gravity
ASTM D792
2.15
Tensile Strength
ASTM D792
psi(Mpa)
4,200(28.9)
Tensile Elongation
ASTM D638
%
400
Flex Modulus
ASTM D790
psi z(Mpa)
90,000(620)
MIT Flex Life
ASTM D2176
500,000+
Durometer Hardness
ASTM D2240
Shore D
60