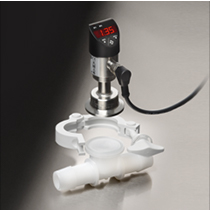 Our team at TBL is extremely proud to launch our aSURE™ instrument fitting, which was developed to provide a closed barrier between a fluid path and the external environment. This allows users to use gamma irradiation or other sterilization methods to sterilize an assembly, then install a pressure gauge at the point of use. The fitting is perfect for disposable manifolds and tubing assemblies used on hybrid single-use process skids and other equipment.
Fixed or tethered pressure-monitoring devices provide extremely high accuracy and are often hard-wired into a central control panel. The aSURE™ instrument fitting provides a practical means of providing a protective barrier on a complex manifold set without the need to have a gauge present during the sterilization process.
When comparing our aSURE™ fitting system to single-use pressure sensor technology, single-use sensors have many important drawbacks.
Drawbacks of Single-Use Pressure Sensors
Proprietary equipment required to relay the proper signal in to existing control systems
Generation of waste electrical and electronic equipment (WEEE)
Unable to use preferred pressure sensor in process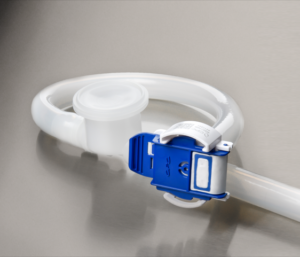 Benefits of the New aSURE™ Instrument Fitting
Use the pressure gauge of your choice on a single-use system
No need for gauge to be installed during sterilization process
No generation of waste electrical and electronic equipment (WEEE)
No proprietary monitor or transmitter/ line conditioning required
Integrate gauges from Anderson-Negele, WIKA, REOTEMP, Emerson Instruments, & Endress+Hauser
Designed for Pharmaceutical/ Bio-Pharmaceutical Manufacturing
Representative samples of each fluid contact material have been tested and have meet the following regulatory standards:
USP Class VI
Animal Derived Component Free (ADCF)
ISO 10993
REACH/ RoHS
California Proposition 65