ClearGreen® | Flexible PVC (Vinyl) Tubing
REACH Compliant, USP Class VI, non-DEHP PVC Vinyl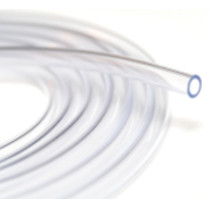 The Original DEHP Free PVC Tubing
As part of TBL's continued commitment towards environmental responsibility, we offer our complete line of ClearGreen® flexible PVC tubing. Most flexible PVC sold today contains phthalate plasticizers such as DEHP. Phthalates are known to present increased health and environmental risks. Our ClearGreen® Tubing has been developed without phthalates to address the growing trend away from this type of plasticizer. Unlike competitors, ClearGreen® does not impart a taste or odor to a fluid.
Is Your Vinyl Tubing RoHS, REACH and California Prop 65 Compliant?
ClearGreen® tubing complies with California EPA environmental standards, the EU's REACH (article 33.1) and RoHS regulations. It also fully complies with the requirements of USP Class VI, is non-Pyrogenic and non-hemolytic. It is the material of choice for laboratory, food and beverage/ beer tubing, pharmaceuticals, medical device, Brewery, consumer products, and environmental and imparts no taste or odor. Consider using ClearGreen® for any application where you are using phthalate-plasticized PVC. It has superior clarity, biocompatibility, and is friendlier to the environment at time of disposal. ClearGreen® is the origninal phthalate free vinyl tubing and it meets or exceeds the Tygon® ND series.
Physical Properties
| Property | Nominal Value | Unit | Test Method |
| --- | --- | --- | --- |
| Density–Specific Gravity | 1.23 | SP GR/23 C | ASTM D792 |
| Mechanical | Nominal Value | Unit | Test Method |
| --- | --- | --- | --- |
| Tensile Strength (100% Strain) | 750 | PSI | ASTM D638 |
| Tensile Strength @ Yield | 1900 | PSI | ASTM D638 |
| Hardness | Nominal Value | Unit | Test Method |
| --- | --- | --- | --- |
| Durometer Hardness (A Scale–15 sec) | 70 | | ASTM D2240 |
| Thermal | Nominal Value | Unit | Test Method |
| --- | --- | --- | --- |
| Brittle Temperature | -40 | F | ASTM D746 |
| Temperature Range | min -40 max 175 | F | |
| Melt Temperature | 320-340 | F | |
| Sterilization | Autoclave, Ethylene Oxide and Gamma Irradiation |
| --- | --- |
Applications
Laboratory Research
Food & Beverage
Pharmaceuticals
Biologics
Medical Device
Brewery
Consumer Products
Environmental
Raw Milk
Quality Standards
USP Class VI
USP 661 Extractable/ Leachable
FDA Compliant
REACH Compliant
ROHS Compliant
BSE/TSE-compliant