Carboys and Integrated Systems
Bio-Technology | Pharmaceutical | Laboratory | Chromatography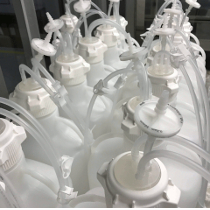 We offer a wide range of non-metallic carboys/ bottles and specialize in integrating custom, turnkey solutions. This includes rigid and flexible dip tubes, custom
tops, custom fabrication of ports, clean-room assembly, and gamma irradiation. We understand that customization is necessary in
many applications, so we often work with customers to specify and design containers to fit a wide range of needs in the bio-pharmaceutical,
pharmaceutical, and general laboratory markets.
Our C-Grip™ Carboys are extremely chemically resistant and designed to optimize shelf space and storage volume. Unlike competitor's products,
our carboys feature wide mouths up to 120mm, so users are able to gain easy access, if necessary, for cleaning.
| Materials | Color | Regulatory | *Sterilization |
| --- | --- | --- | --- |
| Polypropylene | Natural (Translucent) | FDA Grade, USP Class VI, REACH, RoHS Compliant | Autoclave, Gamma, ETO, Chemical |
| HDPE (High Density Polyethylene) | Natural (Translucent) or Dark Amber | FDA Grade, USP Class VI, REACH, RoHS Compliant | Gamma, ETO, Chemical |
| Co-Polyester (BPA Free) | Natural (Transparent) | FDA Grade, USP Class VI, BPA Free | ETO, Chemical |
Brochures
Aseptic Fluid Handling Solutions

Flexi-cap™/ Flexi-Top™ systems are aseptic handling solutions for high-purity
fluids and biologicals in pharmaceutical, biotechnology, and laboratory liquid-transfer applications.
Flexi-Cap™, Flexi-Barb™ and Spigot Technology
TBL Plastics has enhanced the features of C-Grip™ Carboys and Vacuum Bottles by offering Flexi-Cap™/ Flexi-Barb™ systems and state of the art spigot technology.
Custom Capabilities
TBL features a unique turnkey capability which includes a mechanical design department using computer aided design (CAD) to support your process. Our high-purity plastics fabrication department can take your design and customize our standard carboy and vacuum bottle
offering endless integrated process solutions. Contact us to learn more.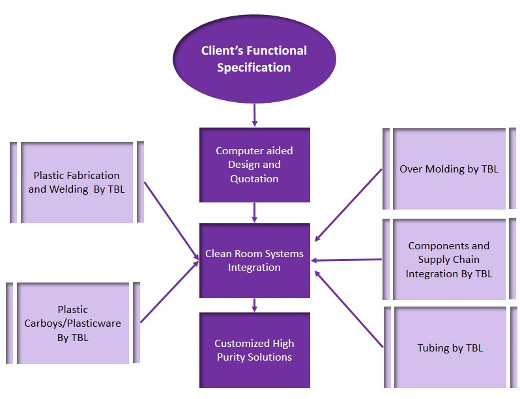 Features and Benefits
Up to 120mm wide-mouth for ease of clean-ability
Novel shape requires less shelf space
Bottom handles provide secure grip while lifting and transporting
Large top handles for a full hand grip
Volume graduation marks molded in to carboy with + or – 5% accuracy
No-Leak Autoclavable Spigot and FlexiBarb

™

Flexi-Cap

™

allows for a multitude of connective options
Designed for maximum drain-ability
Industry Leading Surface-Finish Smoothness
Full Validation Package for all Materials of Construction
Note: Material properties may be affected greatly by temperature, operating pressure, chemical concentration, the presence of other chemicals,




and other factors. Ultimately, users are expected to determine the compatibility of any product through field testing under their particular




process conditions. Specifications are subject to change without notice.