Kynar-Flex® PVDF Tubing
Laboratory | Food and Beverage | High pH and Low pH | Bio-Pharmaceutical | High-Purity Chemical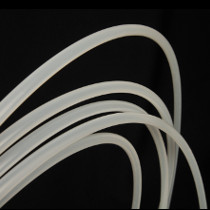 PVDF is Ideal for a Broad Range of Uses
Kynar® PVDF has several properties which make it ideal for a broad range of demanding applications. It is constructed exclusively with FDA compliant materials that meet USP Class VI, NSF 51, NSF 61, and NSF 14 requirements. Also, it has low TOC, excellent chemical resistance to most strong chemicals, is UV stable, and is rated for high temperatures. PVDF is ideal for use in high-purity water systems, for laboratory uses, food/ beverage applications and many more. It can be an economical replacement to Teflon® (PTFE) in many applications. Low extractables, flexibility and superior chemical resistance make Kynar® the material of choice for a wide range of uses. Kynar® is an Alternative to Teflon®
Kynar® Tube and fittings are widely accepted in a range of industries and they are known as an excellent and economical alternative to Teflon® (PTFE) and other fluoropolymers. In many cases Kynar® Tubing and fittings have superior mechanical properties and last longer compared to those manufactured from more expensive fluoropolymers.
Over-Molded Sanitary Ends
These types of connections are ideal for applications where cleanabilty response is a high priority. Over-molding eliminates barbed connections, which are costly and can entrap residual fluids, resulting in contamination. We manufacture a wide range of over-molded, sanitary connections in metric and American sizes. Over-molded ends meet USP Class VI, are BSE/TSE compliant. Animal derived ingredient free (ADIF) available on request. Contact us for more information about our over-molded connective technologies. Retrofit your existing process or design your new one using over-molded ends to save money and reduce contamination.
Applications
Pharmaceutical
Chemical process
Semiconductor
Wire insulation and jacketing
Food Processing
Pulp and Paper
Dyes
Benefits
Low Cost
Excellent Chemical Resistance
Excellent Mechanical Properties
Heat Weldable and fusible
UV Stable
Non Hemolytic
Packaging
Per Customer's Specifications
Clean Room Packed
Available pre-cut
Sterilization
Suitable with Ethylene Oxide, gamma irradiation, and autoclave
Certification
U.S. Pharmacopoeia Class VI Certification
Cytotoxicity criteria
CFR Title 21 Section 177.2600
Full Lot Traceability
NSF
Animal-derived-ingredient Free
Trademarks
Kynar® is a registered trademark of Arkema.
Teflon® is a registered trademark of DuPont.