ClearGreen® 60 | DEHP-Free Vinyl (PVC) Tubing
Flexible | California Prop. 65 Compliant | REACH Compliant | DEHP Free | Phthalate Free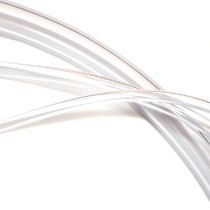 The Original DEHP Free Vinyl Tubing
For several years TBL plastics has taken a leadership position being the first to introduce a full line of Phthalate/ DEHP free vinyl tubing. Our trusted ClearGreen® line of tubing has been widely accepted for its purity in the life sciences and consumer-product markets.
With other manufacturers reacting to the need for Phthalate free vinyl, TBL now offers our ClearGreen® 60 which is compounded from the same ingredients as our well established original formulation with one difference. ClearGreen® 60 was designed to be softer for use in laboratory equipment, peristaltic pumps, and vacuum lines.
All ClearGreen® DEHP Free Vinyl products are California Proposition 65 compliant, REACH compliant and meet USP Class VI standards.
Physical Properties
| Property | Nominal Value | Unit | Test Method |
| --- | --- | --- | --- |
| Specific Gravity | 1.16 | | ASTM D792 |
| Durometer Hardness | 58 | | ASTM D2240 |
| Tensile Strength | 1700 | psi | ASTM D142 |
| Ultimate Elongation | 420 | % | ASTM D412 |
| Melt Temperature | 320 | °F | |
| Brittle Temperature | -127 | °F | ASTM D746 |
| Water Absorption (24 hours @72°F) | 0.11 | % Wt. Gain | ASTM D570 |
Sterilization
Gamma Irradiation
Ethylene Oxide
Autoclave
Applications
Laboratory
Food & Beverage
Pharmaceuticals
Peristaltic Pumps
Medical Device
Brewery
Consumer Products
Environmental
Raw Milk
Quality Standards
USP Class VI
FDA Compliant Material
USP 661 Extractable/ Leachable
REACH Compliant
ROHS Compliant
BSE/TSE-compliant