Pharm-A-Clear® R – Braided Silicone Hose
Platinum Cured | Extractable Analysis | USP Class VI | ISO 10993 | FDA CFR 177.2600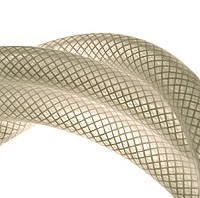 High Performance Hose for the Most Demanding Applications
For higher temperature and pressure applications or those with a need for improved kink resistance, we also offer our Pharm-A-Clear® R, platinum-cured braided silicone tubing. Pharm-A-Clear® R is constructed using an inner and outer platinum-cured silicone shell with a polyester inner braiding. The inner core is a softer (50 durometer, shore A) material for flexibility, while the outer shell is slightly harder (60 durometer, shore A) for strength.
Pharm-A-Clear® R Meets the Highest Regulatory Standards
Pharm-A-Clear® R hose is Animal derived ingredient Free (ADIF), meets USP Class VI, FDA CFR 177.2600, and ISO 10993 Requirements. Please contact us for quality documentation including extractables analysis.
Compatible With Most Modern Sterilization Techniques
Pharm-A-Clear® R stands up to repeated sterilization cycles including, but not limited to, ethylene oxide (EO), autoclave, steam in place (SIP), gamma irradiation, and e-beam irradiation. Although this hose has one of the longest service lives in it's class, after repeated exposure to high temperature sterilization cycles the hose will become "gummy", at which time it should be replaced.
For more information on sterilization methods, please read our blog post about how to sterilize silicone tubing or contact us.
Sizing Chart
| P/N | ID | OD | Wall | Max. Work. Pressure |
| --- | --- | --- | --- | --- |
| PLTS-R-125-50 | .125″ | .365″ | .110″ | 170 psi |
| PLTS-R-187-50 | .187″ | .409″ | .111″ | 164 psi |
| PLTS-R-250-50 | .250″ | .488″ | .119″ | 135 psi |
| PLTS-R-375-50 | .375″ | .622″ | .125″ | 130 psi |
| PLTS-R-500-50 | .500″ | .800″ | .150″ | 100 psi |
| PLTS-R-625-50 | .625″ | .965″ | .170″ | 91psi |
| PLTS-R-750-50 | .750″ | 1.10″ | .175″ | 80 psi |
| PLTS-R-875-50 | .875″ | 1.240″ | .180″ | 66 psi |
| PLTS-R-1000-50 | 1.00″ | 1.350″ | .175″ | 60 psi |
Applications
Bio Process Equipment
USP Water
Hot WFI
Sterile Transfer
Cell Culture Media
Clean Steam
Asceptic Fill and Transfer
Benefits
Superior Bio Compatibility
Rated for High Temperatures (Steam in Place)
High Pressure Rating
Extremely Flexible
No taste or Odor Imparted
Ultra-Pure Medical Grade
Non-Pyrogenic
Lot and Batch Traceable
Packaging
Continuous coils
Available with Unitized Sanitary (Tri-Clamp) Ends
Molded Manifolds
Sterilization
Ethylene Oxide (ETO)
Steam in Place
Autoclave
Gamma Irradiated
Certifications
U.S. Pharmacopoeia Class VI
Cytotoxicity Criteria
CFR Title 21 Section 177.2600
Fully Lot Traceable
Animal Derived Ingredient Free