EZ Fittings™ | Reusable Stainless Steel Sanitary Fittings
316 Stainless Steel | Autoclavable | Reusable | Field Fit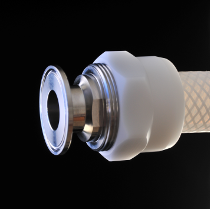 The EZ Fitting is an excellent option for securely connecting tubing with a sanitary, Tri-Clamp® Style connection. The value in the EZ fitting is the ability to field fit and secure a cleanable Tri Clamp connection without special tooling or crimping devices. In addition, the fittings can be re-used with replacement tubing on a continuous basis.
The compression nut and sleeve are constructed of Delrin®, but Kynar® (PVDF) is also available for improved chemical resistance. For assistance specifying the size of your EZ Fitting™, please contact us.
EZ fittings are recommended for use with our braided silicone hose.
Benefits
Compatible With Most Modern Sterilization Methods
Reusable
Field Fit
No Cumbersome or Expansive Tools Required
Features
316 Stainless Steel Fluid Contact Surface
Delrin® (Acetal) Compression Nut and Sleeve (Also Avaialable in Kynar® (PVDF)
Compatible With A Wide Range of Tubing and Hoses
Fits Tubing Sizes From 1/4″ – 2″ Inside Diameter
Sanitary Connection in Mini, 1″, 1-1/2″, and 2″ Tri-Clamp®
Sterilization
Ethylene Oxide (ETO)
Autoclave
Gamma Irradiation
Steam In Place (SIP)
Steam Out Of Place (SOP)
Re-Usable Tri-Clamp® Sizing Chart
| Hose ID (inch) | Part# | Description | Fitting ID (inch) | Flange Diameter (inch) | Overall Length (inch) |
| --- | --- | --- | --- | --- | --- |
| 1/4 | EZ-04HB-08RTC-SS | 1/4″ HB x 1/2″ Mini Tri-Clamp® Re-Usable EZ Fitting | 0.18″ | 0.98″ | 1.80″ |
| 1/4 | EZ-04HB-12RTC-SS | 1/4″ HB x 3/4″ Mini Tri-Clamp® Re-Usable EZ Fitting | 0.18″ | 0.98″ | 1.80″ |
| 3/8 | EZ-06HB-08RTC-SS | 3/8″ HB x 1/2″ Mini Tri-Clamp® Re-Usable EZ Fitting | 0.32″ | 0.98″ | 2.00″ |
| 3/8 | EZ-06HB-12RTC-SS | 3/8″ HB x 3/4″ Mini Tri-Clamp Re-Usable EZ Fitting | 0.32″ | 0.98″ | 2.00″ |
| 1/2 | EZ-08HB-08RTC-SS | 1/2″ HB x 1/2″ Mini Tri-Clamp® Re-Usable EZ Fitting | 0.38″ | 0.98″ | 2.16″ |
| 1/2 | EZ-08HB-12RTC-SS | 1/2″ HB x 3/4″ Mini Tri-Clamp® Re-Usable EZ Fitting | 0.38″ | 0.98″ | 2.16″ |
| 5/8 | EZ-10HB-12RTC-SS | 5/8″ HB x 3/4″ Mini Tri-Clamp® Re-Usable EZ Fitting | 0.50″ | 0.98″ | 2.25″ |
| 5/8 | EZ-10HB-16RTC-SS | 5/8″ HB x 1″ Tri-Clamp® Re-Usable EZ Fitting | 0.50″ | 1.98″ | 2.25″ |
| 3/4 | EZ-12HB-12RTC-SS | 3/4″ HB x 3/4″ Mini Tri-Clamp® Re-Usable EZ Fitting | 0.63″ | 0.98″ | 2.25″ |
| 3/4 | EZ-12HB-16RTC-SS | 3/4″ HB x 1″ Tri-Clamp® Re-Usable EZ Fitting | 0.63″ | 1.98″ | 2.25″ |
| 1 | EZ-16HB-16RTC-SS | 1″ HB x 1″ Tri-Clamp® Re-Usable EZ Fitting | 0.87″ | 1.98″ | 2.50″ |
| 1 | EZ-16HB-24RTC-SS | 1″ HB x 1 – 1/2″ Tri-Clamp® Re-Usable EZ Fitting | 0.87″ | 1.98″ | 2.50″ |
| 1 – 1/2 | EZ-24HBS-24RTC-SS | 1 – 1/2″ Short HB x 1 – 1/2″ Tri-Clamp® Re-Usable EZ Fitting | 1.37″ | 1.98″ | 2.65″ |
| 2 | EZ-32HBS-21RTC-SS | 2″ Short HB x 2″ Tri-Clamp® Re-Usable EZ Fitting | 1.75″ | 2.52″ | 3.78″ |